Nyolus Cloud™ Deployment Lifecycle
Nyolus Cloud™ Deployment Lifecycle by Nyolus typically consists of business case and feasibility analysis through migration, training and governance. Depending on the deployment model and the service layers implementation requirements, Nyolus uses proprietary solutions and integrates them with platforms and products from major vendors like IBM, Microsoft, HP, Oracle, Google, Amazon/AWS, Salesforce, VMware, Teradata, Symantec, StorSimple, Gladinet, and others.
We provide the detailed documentation on the cloud development and deployment strategy that includes business and technical analysis through, software modeling and simulation, mockup creation of cloud, testing and migration. We also provide the complete technical training and various governance options for the operation and management of the cloud platform that we create and deploy for you. While the creation and deployment of a specific model depends on many factors, following is typical Nyolus Cloud Development Lifecycle.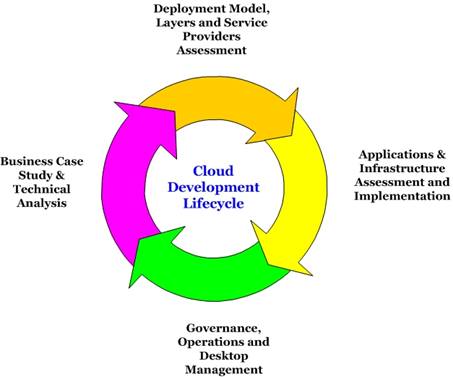 Nyolus Cloud™ Development Lifecycle
Business Case & Technical Analysis
Benefits, ROI / TCO, Savings, etc
Applications and Infrastructure Requirements
Operational and Management Requirements
Platform Maintenance Requirements
Deployment Model, Service Layers and Providers Assessments
Private, Public, Hybrid or Virtual etc.
SaaS, PaaS, IaaS, StaaS, etc.
Application & Infrastructure Development
Custom Applications
Infrastructure Development
Virtualization, Rationalization, RAS, etc.
Governance
Infrastructure maintenance and service support (for Private Cloud)
Desktop Services and support